April 26th marks the day that John Wilkes Booth was shot in the neck and killed by a Union Calvary soldier while hiding in a barn on the farm of Richard Garrett near Bowling Green, Virginia.
Since April 14th, Booth had spent many days feeling south into Virginia. According to many, Booth had broken his leg when he jumped from the balcony onto the stage after shooting the President. Dr. Samuel Mudd had helped Booth on April 15th by setting his injured leg and allowing him to rest on his couch. Booth then continued his flight south, crossed the Potomac River and eventually ended up on the Garrett farm.
As you can see from this poster, Booth, along with his conspirators was a wanted man and was being hunted down for his crime.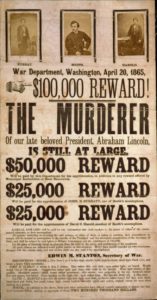 Library of Congress Rare Book and Special Collections Division – http://hdl.loc.gov/loc.pnp/cph.3g05341
The following is a map of Booth's Escape route from the Ford's Theater National Historic Site website: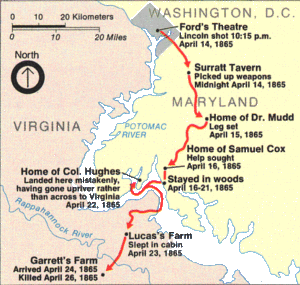 For more on the Booth Escape Route, I suggest the following:
Civil War Studies Website has some good photos from a tour with noted historian Ed Bearss.
and
Civil War Traveler website has some good information and a brochure that is available for you to download and review with your students.
For more information on the Booth escape and capture I suggest the following:
The Death of John Wilkes Booth from the Eyewitness To History website and

The Life and Plot of John Wilkes Booth website by RJ Norton. This site also has some good information on the final hours of Booth and details of the autopsy of Booth's body.