On December 22, 1864, Union General William T. Sherman presents the city of Savannah, Georgia, to President Abraham Lincoln. Sherman captured the city after his famous March to the Sea from Atlanta. Savannah had been one of the last major ports that remained open to the Confederates.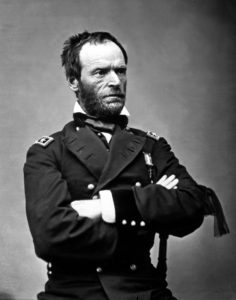 The following is a telegram sent by General Sherman to President Lincoln concerning the progress of Sherman's 'March to the Sea.' The success of this campaign helped clinch the 1864 election for Lincoln.
SAVANNAH, GA., December 22, 1864
(Via Fort Monroe 6.45 p.m. 25th)
His Excellency President LINCOLN:
I beg to present you, as a Christmas gift, the city of Savannah, with 150 heavy guns and plenty of ammunition, and also about 25,000 bales of cotton.
W.T. Sherman,
Major General.
After Sherman captured Atlanta in September 1864, he did not plan to stay for long. There was still the Confederate army of General John Bell Hood in the area, and cavalry leaders like Nathan Bedford Forrest and Joe Wheeler, who could threaten Sherman's supply lines. In November, Sherman dispatched part of his force back to Nashville, Tennessee, to deal with Hood while Sherman cut free from his supply lines and headed south and east across Georgia. Along the way, his troops destroyed nearly everything in their path. Sherman's intent was to wreck the morale of the South and bring the war to a swift end.
For nearly six weeks, nothing was heard from Sherman's army. Finally, just before Christmas, word arrived that Sherman's army was outside Savannah. A Union officer reached the coast and found a Union warship that carried him to Washington, D.C.,to personally deliver news of the success. Sherman wired Lincoln with the message, "I beg to present you, as a Christmas gift, the city of Savannah, with 150 heavy guns and plenty of ammunition, and also about 25,000 bales of cotton."