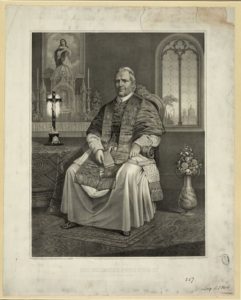 Over the past few days, Pope Francis has been visiting the United States and talking to families, prisoners and politicians.  During the Civil War, politicians also sought the guidance and support of Pope Pius IX.
Pius IX was Pope from June 161846 to his death in 1878. During his pontificate, he convened the First Vatican Council (1869–70), which decreed papal infallibility.
In 1863, Pius IX sent a letter addressed to the "Illustrious and Hon. Jefferson Davis, President of the Confederate States of America, Richmond," and concluded with a hope for a union in "perfect friendship."  Jefferson Davis took this letter as a form of recognition for the Confederacy and the letter was reported in Southern newspapers with the ideas that His Holiness supported the Confederacy.
The following is the letter from His Holiness Pope Pius IX to Jefferson Davis:
Illustrious and honorable sir, greeting:

We have lately received with all kindness, as was meet, the gentlemen sent by your Excellency to present to us your letter dated on the 23d of last September. We have received certainly no small pleasure in learning both from these gentlemen and from your letter the feelings of gratification and of very warm appreciation with which you, illustrious and honorable sir, were moved when you first had knowledge written in October of the preceding year to the venerable brethren, John [Hughes], archbishop of New York, and John [Odin], archbishop of New Orleans, in which we again and again urged and exhorted those venerable brethren that because of their exemplary piety and episcopal zeal they should employ their most earnest efforts, in our name also, in order that the fatal civil war which had arisen in the States should end, and that the people of America might again enjoy mutual peace and concord, and love each other with mutual charity. And it has been very gratifying to us to recognize illustrious and honorable sir, that you and your people are animated by the same desire for peace and tranquillity, which we had so earnestly inculcated in our aforesaid letters to the venerable brethren above named. May it please God at the same time to make the other peoples of America and their rulers, considering seriously how cruel and how deplorable is this internecine war, would receive and embrace the counsels of peace and tranquillity. We indeed shall not cease with most fervent prayer to beseech God, the best and highest, and to implore Him to pour out the spirit of Christian love and peace upon all the people of America, and to rescue them from the great calamities with which they are afflicted. We, at the same time, beseech the God of pity to shed abroad upon you the light of His grace, and attach you to us by a perfect friendship.

Given at Rome at St. Peter's on the 3d December, 1863, in the eighteenth year of our pontificate.
Illustrious and Hon. Jefferson Davis
The following is a letter that Confederate President Jefferson Davis sent appointing A. Dudley Mann as a special envoy to the Holy See.
Jefferson Davis, President of the Confederate States of America, to
A. Dudley Mann, greeting.

Reposing special trust and confidence in your prudence, integrity, and ability, I do appoint you, the said A. Dudley Mann, special envoy of the Confederate States of America, to proceed to the Holy See and to deliver to its most venerable chief, Pope Pius IX, sovereign pontiff of the Roman Catholic Church, a communication which I have addressed to his Holiness under date of the twenty-third of this month.

Given under my hand and the seal of the Confederate States of America at the city of Richmond, this 24th day of September, in the year of our Lord one thousand eight hundred and sixty-three.

JEFFERSON DAVIS.