In June 1863, the Confederates Army was advancing up the Cumberland Valley in Pennsylvania and was lead by a cavalry brigade under General Albert G. Jenkins. Jenkins and his men arrived in Carlisle on June 27, then continued east toward the town of Mechanicsburg. General Robert E. Rodes' infantry division of Ewell's corps then marched into Carlisle, bands playing and flags proudly flying. General Ewell himself accompanied Rodes and selected the abandoned U.S. Barr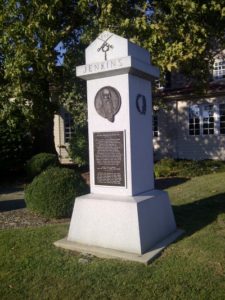 acks as the site of his headquarters.
On Sunday, June 28, 1863, a scouting force of 60 Confederate cavalrymen set out from Carlisle up present-day Route 3. Their mission was to reconnoiter a northern invasion route through Perry County east across the Susquehanna River and then south into Harrisburg. This force was turned back about a mile north of Carlisle Springs when they were informed that Union militia was defending the mountain pass at Sterretts Gap. This is the northernmost point of advance by any Confederate force during the war that resulted in no military action.
According to the Pennsylvania Historical Commission, some 300 brave residents of Perry County under the command of Capt. Joel F. Fredericks and Capt. Jacob Fenstemaker (Old Perry Militia) built fortifications about 500 feet down on the Cumberland County side of the mountain. Residents were armed with buckshot,clubs and pitchforks.
Advance scouts of the Confederate forces were repulsed and the Perry Countians chased them off the mountain and drew first blood in the battle. Rebels reported back to Gen. Robert E. Lee that the Perry County border was well fortified on its southern border. While numerous newspaper men were at the Gap the battle received little press coverage because the Great Battle of Gettysburg that was about to begin overshadowed the minor Perry County skirmish. The Confederates were forced to withdraw and reinforce the troops at Gettysburg; thus ended the northernmost advance of southern forces in the Civil War. Following the war, this band of brave citizens was called the "Noble 300".
On the 28th of June, Jenkins' brigade split into two columns and continued its eastward advance. One wing halted at Peace Church and exchanged artillery fire with Yankee militia in position at Oyster Point. The other halted at Orr's Bridge and also fired at the distant Union soldiers. On the 29th Jenkins' scouts examined the Yankee fortifications on the Susquehanna River near Harrisburg, then withdrew the next day from Mechanicsburg. While doing so the Rebels fought with Union militia at Sporting Hill before retreating to Carlisle. This was northernmost engagement by any element of the Army of Northern Virginia during the Gettysburg campaign.