Thanks to the Ten Roads Blog (actually done by a high school student) for sharing a link to a very cool website (more of a mashup really) that uses Google Maps and photos.
The Encounter at Gettysburg page is being developed by Chuck Kann and incorporates Google Maps to allow visitors to locate monuments, farm houses and other significant portions of the Gettysburg battlefield. To navigate the site, you click on the your search criteria on the left side of the page. You can select monuments and landmarks by type, by state or by location on the battlefield. Once you have selected your desired monument or location, you simply click Get Map and then depending on your selection, you could then choose from additional monuments or locations.
For example, I clicked on PA in the Monuments associated with State box then clicked Get Map. From the new list, I selected the 11th PA monument. The Google Map image tells me where the monument is located (I can even view it as a satellite image), I have a photo of the monument and then information that is written on the monument.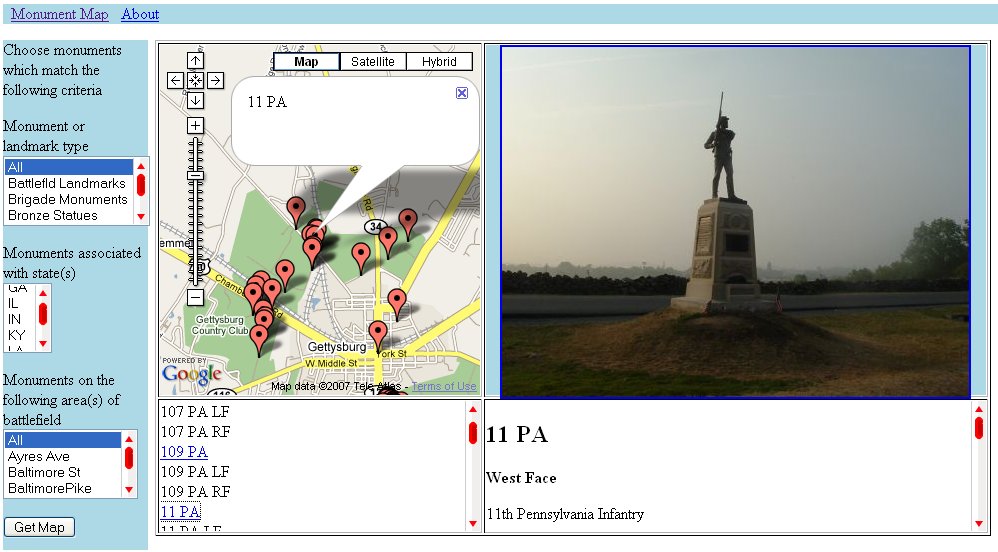 In addition to this, the website has a great collection of both modern and period photographs for you to explore and use in your classroom.
Until next time….