The following are a few letters from soldiers sent on St. Patrick's Day during the Civil War.
Fort Sumter, S.C. March 17, 1861
Hon. D. F. Jamison, Executive Office, Department of War:
Sir: I have the honor to acknowledge the receipt of your communication of the 15th instant in reply to mine of the 13th to his excellency the governor.
I hasten to ask you to refer to my letter to his excellency, and you will see that I did not solicit any modification of his original permission about receiving supplies of fresh meat and vegetables. I am satisfied with the existing arrangement, and only called attention to a reported interference of it. I thank you for your promise in reference to the property of Captain Foster.
Lieutenant-Colonel Ripley did kindly offer to attend to collecting any "private property" left on the island by the officers, and I thanked him for having done so.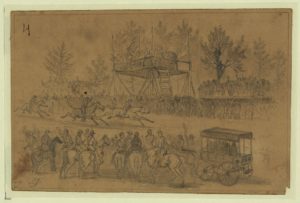 The property alluded to in my note is not, strictly speaking, private, but belongs to the regiment or post, and therefore was not, in my opinion, embraced in his offer. My object in mentioning this matter was to call attention to it, in order that such directions might be given regarding it as might be deemed proper.
I beg leave to assure you that I had no desire to discuss the question of right or of courtesy in reference to the treatment my officers received in the failure to return the hired boy, and my remarks were intended to apply to the professed owner of the boy, who, neglecting his duty as owner or master for months, had permitted the boy to hire himself out, every one supposing him to be free, and now, at a time when the exercise of his "undoubted right" puts genltmen here to a serious inconvenience, for the first time asserts his rights of ownership.
His excellency mentions in his letter to me, received yesterday, that the boy is a slave, and, of course, that ends the matter. In justice to myself I must state that I did not intentionally place a forced construction of your words. The day your first letter was received about the boy a gentlemen came down to see me about the "improper correspondence," which he was told had reference to the negroes joining us in the event of a collision. He remarked to his informants, as he told me, that he thought it a foolish story, advised them to say nothing about it, and said that he was certain, at all events, that I had no idea of anything of the kind, and came down to tell me of the rumor.
I regret exceedingly that your letter contains the remarks it does in reference to the effect of a residence at Fort Sumter on the boy's "temper and principles," and I am satisfied that, upon further consideration, you will regret it.
I am, sir, respectfully, yours, &c.,
Robert Anderson,
Major, U.S. Army, Commanding
————————————————————————–
Fort Sumter, S.C., March 17, 1861
General Jos. G. Totten,
Chief Engineer, U.S. Army, Washington, D.C.:
General: The unusual activity observed and reported yesterday morning in the surrounding batteries was due to preparations for receiving some distinguished person who visited them in the afternoon. It is supposed that this was Vice-President Stephens, of the so-called Southern Confederacy. Three rounds were fired from all the batteries on Morris Island, except No. 1, apparently as much for practice as for saluting, for most of the guns not pointed in this direction were shotted. This firing enabled me to detect the positions and approximate calibers of the guns in these batteries.
The marginal sketch represents this roughly:
(sketch included)
No. 1. Battery of sand and palmetto logs, four 24-pounders.
No. 2. Iron-clad battery, three guns, 42-pounders or 8-inch columbiads.
No. 3. Battery of sand and palmetto logs, three guns, 24-pounders of 32-pounders.
No. 4. Battery of sand and palmetto logs, with one 8-inch columbiad or 8-inch sea-coast howitzer.
No. 5. Star of the West battery, five guns, 24-pounders or 32-pounders. 'a' is a large magazine; 'b', 'c', 'd', are defenses of the character of redoubts on top of three sand hills.
There were two guns at each round fired from the light-house battery.
Three or four more guns were landed yesterday with barbette carriages, and most of them (in fact, all that are removed from the landing which is in front of battery No. 1, where there is deep water close in shore) were carried around upon the channel side. One, at least, was placed in battery No. 4, making four guns in that battery at present.
These guns with barbette carriages came from Castle Pinckney, nearly the whole of the upper tier of which is being removed for this purpose. None of the guns from Fort Moultrie bearing upon this fort or the channel have been removed. No work is being done on the batteries looking towards us. All preparations are directed to strengthening the channel batteries very much, and to covering the present batteries in the rear, which was before open.
No work of any magnitude is being done on Cummings Point to-day (Sunday). On James Island the work on the covered way connecting the flank of the line of intrenchments [sic] and the mortar battery is being continued.
The weather is pleasant, although there are indications of a storm brewing.
I have the honor to be, very respectfully, your obedient servant,
J.G. FOSTER
Captain of Engineers
————————————————————————–
U.S. Steamer Brooklyn,
Pensacola Harbor, Fla., March 17, 1861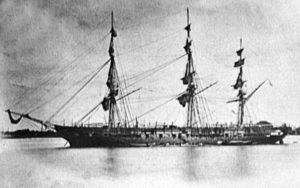 Col. L. Thomas, Assistant Adjutant-General:
Sir: On the 24th of last January I left Fort Monroe, Va., with sealed orders from the headquarters of the Army, which assigned me to the command of the forts in this harbor. On my arrival at this station I met a telegraphic dispatch from the Secretary of War which instructed the commander of the Brooklyn not to land my company for the present.
A few days since I requested a copy of the post return from Lieutenant Slemmer in order to make a monthly return of the whole command. He declines furnishing me with it, as he holds that the telegraphic dispatch superseded my orders, and of course deprived me of the right to command. I do not so construe the dispatch, nor can I consider it as binding upon me, as I have never received a copy of it, nor is it in any way directed to me. I can hardly imagine that the Department could intend that I should be superseded by an officer junior to myself both in grade and rank, and that it would have at least informed me directly of the fact if such had been its intention.
I need not point out to you how important in the present critical state of affairs it is to have a perfect unity of command. Should anything occur that may render it necessary that my company should be landed, it is necessary that some previous arrangements should be made for its reception and distribution of the whole command. It is unnecessary for me to state that such arrangements cannot be made by Lieutenant Slemmer, nor can I for one moment consent to his dispensing of either myself of my command. Besides which, until Lieutenant Slemmer declined sending me the return, I had no idea that he disputed my right to command, and I have made arrangements with Captain Adams, commanding the naval forces on this station, to land a force of marines and sailors, which, with my company and the troops now in the fort, will raise the command to five hundred men. This force, in my opinion, will be sufficient to hold Fort Pickens against any force that may attempt to carry it by escalade. There is, however, a great deficiency both of ammunition and supplies for so large a command. The medical supplies are very limited. There are no bunks either for the hospital nor for the men. The casements are open, and have only brick floors. At present the men are in the officers' quarters, but these will be required for the officers, and would besides be entirely inadequate to accommodate so large a command. To expose the men to sleep on the damp brick floors, exposed as they would be to the inclemency of the weather, would soon place most of them on the sick-report.
It is important that requisitions should be made for medicines and quartermaster's supplies of lumber, bunks, and clothing for the command. I directed the attending surgeon and the acting assistant quartermaster to make the necessary requisitions, but whether they have done so or not I cannot say, as they have not been submitted to me.
I think that the above statement will satisfy you as to the importance of placing things upon such a footing as may settle at once the right to command. I have not deemed it judicious to take the course with Lieutenant Slemmer which I should have taken at any other time, but I think I have said sufficient to satisfy you that it is important that all ambiguity as to my right to command should be at once removed. I therefore ask that instructions may at once be given for me to at once take up my residence within the fort, which the authorities now seem to think is contrary to the agreement entered into.
I deem it important that the commissary and quartermaster's department at this point should be supplied with money, as it is impossible to obtain supplies without it.
Some batteries have been erected by the seceders between the navy-yard and Fort Barrancas, on the shore. These may offer a very serious obstacle to the ships-of-war entering the harbor. The troops, however, I think can be safely landed on Santa Rosa Island, and enter the fort without encountering any serious impediment. May I request that you will give your early attention to the above case, and let me know you decision?
Yours, &c.,
I. Vogdes
Captain, First Artillery
————————————————————————–
"It appears after the disastrous battle of December 13, 1862, the Irish Brigade remained in winter quarters near Falmouth doing the usual guard and picket duty and along towards St. Patrick's Day preparations were made by the officers of the brigade at General Meagher's headquarters to celebrate it in a fitting way. On the morning of the 17th of March, the sports commenced on the division drill ground that laid between the Irish Brigade and General Hancock's headquarters, our division commander. They started in by horse-racing and hurdle jumping, for which there were prizes offered and for mule racing. In the mule race, the prize was for the one that came in last, as the mules are known to be very stubborn animals. They also had foot racing, sack racing, picking up stones, climbing the greased pole, which had a thirty-day furlough and thirty dollars in money attached to it. The man that climbed the pole received it. There were many other sports too numerous to mention, which the enlisted men and officers enjoyed very much.
Along towards evening, the troops and officers adjourned to their respective camps. At Gen. T.F. Meagher's headquarters, a large platform was erected and there were all kinds of jig dancing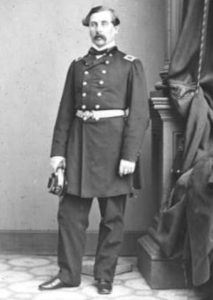 on this platform; also all kinds of refreshments and drinks served, such as the quartermaster of the brigade brought with him from Washington for the occasion, consisting of the side of an ox, thirty-five hams, two pigs stuffed with boiled chickens, and any amount of chickens, ducks and game. The drinks consisted of about eight baskets of champagne, eight gallons of rum, and twenty-five quarts of whiskey.
There were assembled at this time probably ten thousand men from the different corps and regiments in the Army of the Potomac. Among them were Generals Hancock, Slocum, Griffin, Sedgwick, Franklin and others. Among the officers present on the occasion were Lt. [John H.] Gleeson of the 63rd New York, supposed to be one of the jolliest and best officers in the Irish Brigade. He was the tallest officer in the Army of the Potomac. Also the brave and gallant Lt. Gosson better known as 'Jack' Gosson, of the Irish Brigade. He was a fine looking soldier and always appeared in a very handsome uniform on all occasions. Also the brave and gallant Lt. (Richard Riker] Emmet. Gosson and Emmet were both staff officers on the brigade staff, Gosson being adjutant general.
While the sport was going on and the men and officers were enjoying themselves, all of a sudden we heard the booming of the cannons and we knew that something was up and that put a stop to a good deal of the amusements, as the long roll sounded and the troops were all ordered into line in light marching order. We remained in line for sometime. Finally, we had orders to stack arms, which we did. This cannonading that we heard happened to be our cavalry and the Confederates having a sharp fight at Kelly's Ford a few miles up the Rappahannock River.
We broke ranks and had considerable amusements in the camps. The sports at brigade headquarters continued until late into the night when darkness set in. That finally wound up the sports and amusements on that date."
Excerpted: Campaigning with the Irish Brigade: John Ryan, 28th Massachusetts (AST Press)
————————————————————————–
Camp near Falmouth
March 26th, 1863
Dear Mother –
Your kind letter dated the 15th of this month I received last evening. For the past two or three days I have not been doing any duty on account of my leg which I sprained playing ball, the necessity of keeping still a few days I saw right off, and accordingly did so. The swelling is going down, and I think it will be as well as ever in a few days. The Irish Brigade celebrated St. Patrick's Day with great pomp; General Meagher superintending the sports. First on the list came a horse race, with four places for to jump over, one being on the first, second, third, and fourth quarter of the mile. On the first heat, after the bugle had been blown for them to start and when they came to the first jump, there was three horsemen dismounted. They were very poor horsemen. General Meagher's horse won the first race and the second was won by a Lieutenant in the Artillery (I don't know what his name was); then came the foot race and a number of other things that I did not stop to see for the officers were all getting drunk and it was not safe for a private who had to take it on foot or not at all, so I took my leave with a not very good opinion of General Meagher and his gallant Irish Brigade. There was a number of men run over and hurt, but I guess there was none killed, although there was one killed. There was three men in Hancock's Division that had their hair shaved part off and the other half being left on to make it look bad and then drummed out of the U. S. service through the division that was drawn up in line. They marched to the tune of the Rogues march. They did not seem to care much and looked as if they were glad enough to get out of the service that way. I have not forgot what you told be before I left home that if I could not be something better than a corporal I would remain a private. I am not a corporal and more than that I don't incline to be. Brink has come back; he has taken off on a furlough to Steuben County New York and he fetched with him a satchel full of cakes and butter so I think our squad will live on the top shelf for a while. I do not think that there will be any more furloughs given. I have heard that the river is open pretty early. I think Mr. Warner of our company has gone home to Winona on a sick furlough – you need not take everything he says for true (he tells some pretty big stories). I have not the least fear but you will be treated as good as a person could wish I should think after reading your last letter that you were enjoying yourself and very glad am I to hear it. I should not feel half as good, if I should hear that you were neglected by everybody. Mother enjoy yourself as much as you can and do not trouble yourself about me, for I think I can get along very well. We received those socks and mittens that were sent on behalf of the Ladies of Winona and are very much obliged to them. Captain Periam has come back and he brought that bundle you sent to me. The Captain looks very well. I would recommend the climate of Minnesota for sick folks; I would like very much to try it myself although I am not sick I am very much obliged to you for those things you sent by the Captain to me. Tell Orrin to hurry and write; I am looking for a letter from him every day.
Give my best respects to all my friends,
Your son Chas E. Goddard
K Co (1st Minnesota Infantry)
P.S. Those papers that I promised to send to you I have not received myself. I sent the money but did not get the paper.