Recently I was given the opportunity to review a copy of Friends of the Wigwam and thought I would provide you with my thoughts.
According to the Description::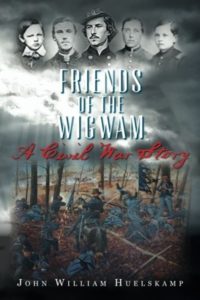 At its core, Friends of the Wigwam is a love story about six young friends whose innocence is stripped from them seemingly overnight in the brutal setting of the American Civil War. The subplots woven into the story include a young woman¹s decision to masquerade as a man so she can join the Union army and fight alongside her friends, each friend's successes and struggles on the battlefields, their families¹ struggles as they waited for letters of good news or tragic news, the story of those who led the battles and a magnificent war-horse that is a steadfast survivor in the face of many tragedies Š one of the most moving Civil War stories you will ever read.
Friends of the Wigwam is also a well-researched historical novel about key soldiers and citizens who lived during the dramatic years of the American Civil War. Real characters and their actual letters and diaries have been selected for this novel to bring the story alive. Some of the figures (Abraham Lincoln, U.S. Grant) will be familiar to you others may not. They are ³actors² who between the years 1857 and 1865 collectively staged a very tragic time in our nation¹s history. All lived within one hundred miles of the author¹s home in Northern Illinois.
What I thought:
I am frequently asked to review historical and historical fiction books for this blog.  One of the things that I enjoyed about Huelskamp's work as a historian and writer is how he brought the various characters to life.  I especially enjoyed how Huelskamp provided photos of the actual documents to support the narrative.  As with any historical fiction, the author does take some liberty in the way events play out from a historical perspective in order to keep the story moving.  Huelskamp details how battles were fought based on first-hand accounts and combines them with fictional aspects to tell an interesting story about soldiers during the Civil War.
I will admit that it took me a while to read this book.  While it was a good read, I do feel that it was lacking in some areas.  First, the characters are not as developed as they could have been and I was often left wanting more information.   Additionally, the dialogue is awkward and unnatural, and I often found myself rereading sentences in order to make sure I understood the point.
As for use in the classroom, I personally would not recommend it.  There are other historical fiction novels out there that would be better suited for student and classrooms.