One advantage of having a long commute is the ability to listen to audiobooks. One book I received is The Hour of Peril by Daniel Stashower. I listened to this book as an audiobook, narrated by Edoardo Ballerini.
According to the author: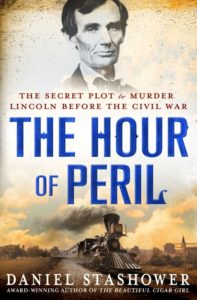 Daniel Stashower, the two-time Edgar award-winning author of The Beautiful Cigar Girl , uncovers the riveting true story of the "Baltimore Plot," an audacious conspiracy to assassinate Abraham Lincoln on the eve of the Civil War in THE HOUR OF PERIL.
In February of 1861, just days before he assumed the presidency, Abraham Lincoln faced a "clear and fully-matured" threat of assassination as he traveled by train from Springfield to Washington for his inauguration. Over a period of thirteen days the legendary detective Allan Pinkerton worked feverishly to detect and thwart the plot, assisted by a captivating young widow named Kate Warne, America's first female private eye.
As Lincoln's train rolled inexorably toward "the seat of danger," Pinkerton struggled to unravel the ever-changing details of the murder plot, even as he contended with the intractability of Lincoln and his advisors, who refused to believe that the danger was real. With time running out Pinkerton took a desperate gamble, staking Lincoln's life–and the future of the nation–on a "perilous feint" that seemed to offer the only chance that Lincoln would survive to become president. Shrouded in secrecy–and, later, mired in controversy–the story of the "Baltimore Plot" is one of the great untold tales of the Civil War era, and Stashower has crafted this spellbinding historical narrative with the pace and urgency of a race-against-the-clock thriller.
My thoughts:
This is a really good book about detective Allan Pinkerton and how he uncovered and foiled a plot to assassinate Abraham Lincoln before he became president. This really is one of the better historical true crime books I've read in some time. Stashower has written a book that builds in suspense as Alan Pinkerton races to uncover and solve a conspiracy to assassinate Lincoln as his inauguration train passes through Baltimore. The Hour of Peril details Pinkerton's race against time while doing an excellent job of describing the United States on the brink of civil war. This is an outstanding book which anyone with any interest in Lincoln and the Civil War will enjoy.