This is weird…
In 2007, I took the "Which Civil War General Are You?" Quiz and scored:
You scored as General Ambrose Burnside, The good news is, you're considered a person of scrupulous honor and well liked by no less a personage than Abe Lincoln. The bad news is you're pretty much inept, the worst high-ranking general of the war. Cheer up, though; you might have a future in politics.
General Ambrose Burnside

90%

General James Longstreet

75%

General George McClellan

70%

William T. Sherman

70%

Robert E. Lee

65%

Stonewall Jackson

60%

General Nathan Bedford Forrest

45%

U.S. Grant

45%

General Jeb Stuart

40%

General Phillip Sheridan
Which American Civil War General are you?
Then tonight I took the same quiz and scored Robert E. Lee.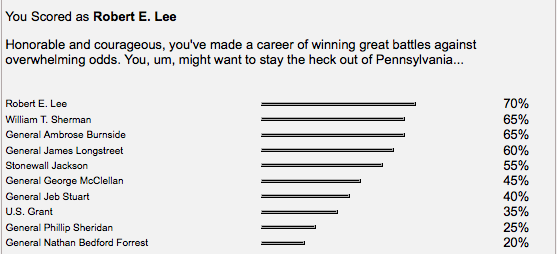 Well, Burnside was tied for 2nd at least.  Perhaps I need to move.