John Harrison Surratt was born on April 13, 1844, the last child of Mary and John Surratt, Sr. Surratt's father managed to purchase a boarding house in Washington along with a tavern in Surrattsville, Maryland, where he also served as the local postmaster. As a young man, Surratt attended St. Charles College in Ellicott Mills near Baltimore.
Shortly after the outbreak of the Civil War, Surratt left St. Charles School and joined the Confederate cause as a dispatch rider. After the death of his father in 1862, Surratt began managing the tavern in Surrattsville and became postmaster. TheSurrattsville Tavern became a popular place for Confederate couriers who often stopped by for food and lodging. It was during this time when he was introduced to John Wilkes Booth by Dr. Samuel Mudd in December of 1864.
Booth and Surratt met several times before Booth asked Surratt to help kidnap Lincoln and exchange him for Confederate prisoners. Surratt considered the idea for several days and finally agreed. On March 17th of 1865, the conspirators planned to ambush Lincoln's carriage on his way to visit wounded soldiers at Campbell General Hospital. The ambush was thwarted when Lincoln changed his plans at the last minute and did not visit the hospital. After this plan fell through, Booth convinced the group that assassinating the president was the only option.
On the night of April 15, 1865, Booth assassinated the President while Surratt claimed to be in Elmyra, NY. After the assassination, Surratt traveled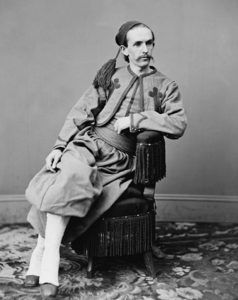 to different locations and hid with many Catholic priests in Canada. The priests arranged for Surratt to sail to England on the ship Peruvian. From England, he made his way to Italy, where he enlisted in the Papal Zouaves under the name of John Watson. One of the men Surratt met in the same unit was a Canadian, Henri St. Marie, a Southern sympathizer who had joined the Confederate Army and been captured while serving on a gunboat. Surratt and St. Marie became friends, and Surratt told him that his real name was not John Watson, but John Surratt.

When his location was discovered he went to Alexandria, Egypt where he was arrested on November 27, 1866. Surratt was brought back to the United States and went on trial for murder on June 10, 1867. The jury heard 80 witnesses for the government and 90 witnesses for the defense. The trial ended August 10 with the jury deadlocked. Eventually, Surratt was freed in the summer of 1868.
Eventually, Surratt secured a job as a teacher in St. Joseph Catholic School in Emmitsburg, Maryland. In 1872 Surratt married Mary Victorine Hunter, a second cousin of Francis Scott Key and the couple lived in Baltimore and had seven children. John Surratt outlived all connected with the assassination and he died of pneumonia at 9:00 P.M. on Friday, April 21, 1916, at the age of 72. He is buried in the New Cathedral Cemetery in Baltimore.
My colorization shows Surratt in his Papal Zouave uniform and was taken in 1867 by Matthew Brady. Interesting to note that typical Zouave uniforms have all red trim while the Papal Zouave uniform was trimmed in gold.
You can learn to colorize your own Civil War photographs from my tutorial videos: Part 1 and Part 2