Received the following from the Pennsylvania National History Day Coordinator and thought I'd share:
————————————————————————————-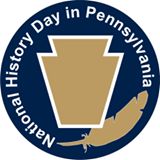 Dear Teachers:
Registration is now open for the 2nd Annual National History Day in Pennsylvania Student Institute.  This year's program will include advice and guidance for student on selecting and narrowing a topic, writing an effective thesis, and creating an evidence based project that will drive home the lessons of NHD and wow the judges.
The workshop will take place on October 18, 2014 at the U.S. Army Heritage and Education Center in Carlisle, PA.  The cost is $50 per student, and a boxed lunch is included.  Teachers with attending students may sit in free of charge, and may be eligible for Act 48 credit for attending.
To register online please visit the NHD in PA homepage at http://pa.nhd.org, or contact me (eddirector@armyheritage.org) directly with any questions.
Sincerely,
Jeff
Jeffrey G. Hawks
Education Director
Army Heritage Center Foundation State Coordinator National History Day in Pennsylvania P.O. Box 839 Carlisle, PA 17013 717.258.1102 FAX:  717.258.1576