As part of the 150th Civil War celebration, the Washington Post has created a special Civil War 150 website to share articles and resources related to the Civil War.  One of these is resources is an interactive map that shows battles and casualties from the war.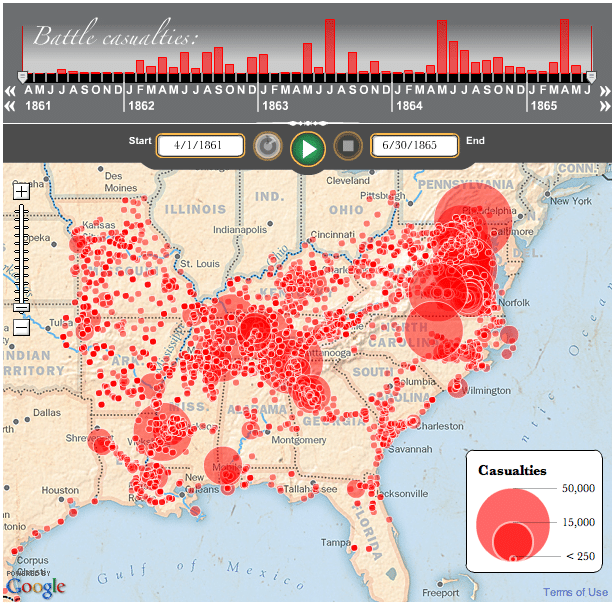 Once you play the movie,  you start to see red dots appear on the screen indicating where a particular battle took place and the extent of the casualties.  The size of the red circle displays the number of casualties from less than 250 to 50,000.   At any time during the movie you can pause the movie and then hover over a red dot to learn more about the particular battle the date of the battle and the casualties.  If you notice the bar graph at the top of the page, you can also hover over the different bars to learn about the number of battles and casualties in a particular month / year. You can also view the red dots by year.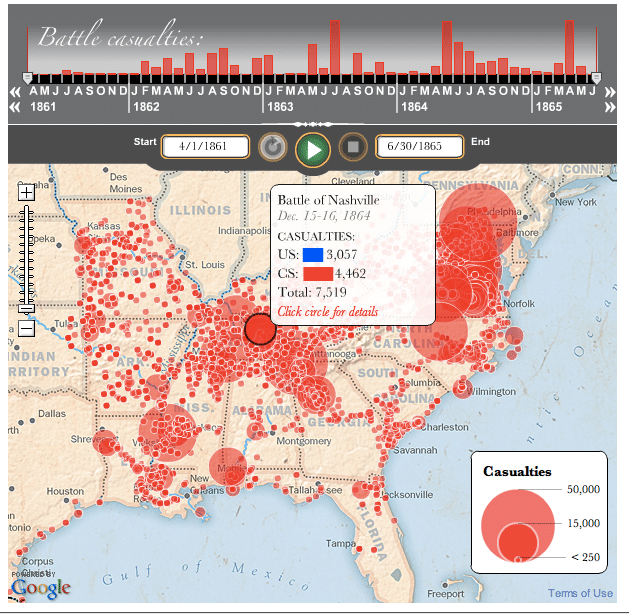 Applications for the classroom:
Have groups of students pick a particular year and write a summary of different battles and stats from that year
Ask probing questions like why were there fewer battles in December, January and February?
Have your students pick some battles based on different criteria and located them in Google Earth
Based on information by year or over all four years, talk about why particular battles were fought in certain geographic locations.  For example, why were there so many in Missouri in 1861?
Just a few ideas.  Be sure to explore the rest of the Civil War 150 website for more resources.
Until Next time…