This is the last in this series of videos from our recent trip to Gettysburg. What a great day, can't wait to get back there with the kids.
In this video Jacob (with help from his brother Josh) is finding dinosaur footprints in Gettysburg.
The following is from "Dinosaur Footprints on the Plum Run Bridge" by Roger J. Cuffey. Which can be found on page 26 of the report on the geology of the Battle of Gettysburg by the DCNR.
The Triassic sedimentary rocks on the Gettysburg battlefield are unfossiliferous. However, a few dinosaur footprints can be seen in the sandstone or siltstone blocks forming the tops of the walls of the road bridge crossing Plum Run on the southern edge of the battlefield (p. 6, 25 in the present guidebook). Those blocks were taken from the
long-abandoned Trostle Quarry along Bermudian Creek, 3.3 miles due east of the US 15 – PA 94 exit at York Springs. They came from the Heidlersburg Member.

Visibility of the footprints varies with the angle and intensity of the lighting, and with the dry, damp, or wet condition of the block surface. Identification of footprints isparticularly difficult because of morphologic variability of the feet interacting with differences in the sediment surface and diagenetic processes later.

Easiest to recognize is a paired fore-and-hind-print, heading southeasterly, identified (Santucci & Hunt 1995) as the heterodontosaur or "basal" ornithopod Atreipus milfordensis, in the northwest corner of the fifth block from the east end of the bridge's north side. On its south side, counting from the west end, the sixth through tenth blocks exhibit prints. The sixth's south edge has a hind-print which is from the coelurosaur theropod Anchisauripus sillimani (or is the rear half of an incomplete Atreipus), the eighth shows a similar obscure print, the ninth bears two small coelurosaur hind-prints resembling Grallator tenuis (as well as another Atreipus), and the tenth has a very obscure prosauropod Otozourn minus hind-print.
Here is a map where you can find the bridge with the footprints.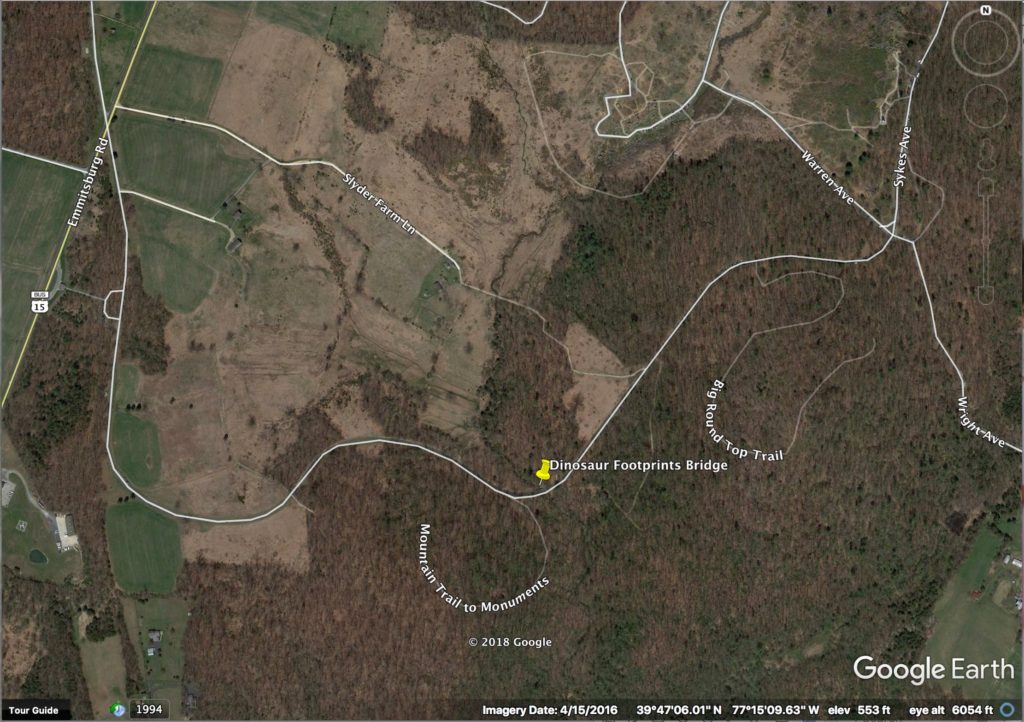 If you are like me and enjoy exploring the Gettysburg battlefield (especially with kids), I highly recommend JD's book: The Complete Gettysburg Guide