The Execution of the Lincoln Conspirators
On July 7, 1865, four conspirators of the Lincoln assassination, Mary Surratt, Lewis Powell, David Herold, and George Atzerodt, were hanged just after 1:30 p.m. on a very hot day in the prison yard of the Old Arsenal Penitentiary, which is now on the grounds of Fort McNair in Washington, D.C. Tennis courts currently occupy the place of the hanging.
The four had played a role in the assassination and the plot surrounding it. The plan was to murder not just President Abraham Lincoln but also the Vice President Andrew Johnson and Secretary of State William Seward. John Wilkes Booth was the leader of the conspiracy, and he assigned Lewis Powell and David Herold to kill Seward, while George Atzerodt was to kill Johnson, and Booth himself was to kill Lincoln.
Much of the conspiracy and the plans for escape were planned at the boarding house of Mary Surrat, and it was discovered that she had given supplies to Booth for his escape. Powell, Herold, and Atzerodt all failed in their parts of the conspiracy, with only Booth succeeding. In the days following, all the conspirators were quickly rounded up, with Booth being shot and the rest being arrested. Trials commenced and convictions were swift. Many people at the time expected President Andrew Johnson to pardon Surratt because she was a woman, and the United States government had never before executed a woman. The execution was delayed as long as possible, but the expected pardon never came. On July 7, Surratt and her three fellow conspirators were executed. She became the first woman ever executed by the federal government.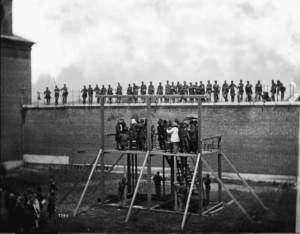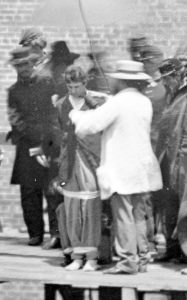 When Herold's death sentence was read aloud by the military commission, he was described as: "a lad of 22; draped in a faded blue suit, in height about five feet four inches, black hair, lively dark hazel eyes, slight tuft of beard along the chin and jaws and faintly surrounding the mouth; rather round face; full but not prominent nose; full lips; a foolish, weak, confiding countenance indicating but little intelligence and not the faintest trace of ferocity." — Brooklyn Daily Eagle, July 7, 1865.
In the image to the right by Alexander Gardner, you can see Herold bound and with the hangman's noose placed over his head. In 1869, David Herold's remains were exhumed and reburied at the foot of the family plot (without a marker) in Congressional Cemetery, Washington, D.C.