The Death of Mary Todd Lincoln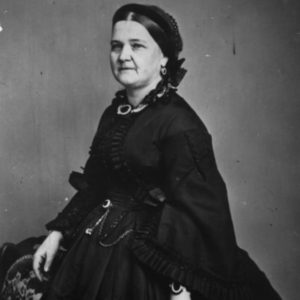 Mary Lincoln passed away on July 16, 1882, at the home of her sister Elizabeth in Springfield, IL. At her funeral, Reverend Reed eloquently spoke of two trees that had grown so close together that their roots had become intertwined. When one of the trees was struck by lightning and died, the other tree lingered a slow death but had died from the same cause.
Called "Mother" by Mr. Lincoln, Mary Todd was the fourth child of Robert and Eliza Parker Todd. Raised in Lexington, Kentucky, Mary came to Springfield, Illinois to visit her sisters in 1840. After a tumultuous courtship, she married Abraham Lincoln on November 4, 1842.
Mary lived in a darkened room in Elizabeth's home with the shades always pulled. On July 15, the anniversary of Tad's death, she collapsed in her bedroom. She may have had a stroke. The next day, Sunday, Mary passed away at 8:15 P.M. Thus, she died in the same home she was married in. She was still wearing the wedding ring with "Love is Eternal" engraved on the inside when she passed away.