On October 31, 1863, Harper's Weekly featured a cartoon by artist Henry Louis Stephens about the controversial campaign of Clement Vallandignham, a leading Peace Democrat or "Copperhead" who was running for governor of Ohio.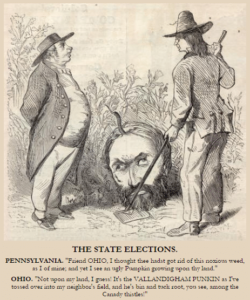 Under the image it states:
The State Elections
Pennsylvania.  "Friend OHIO, I thought thee hadst got rid of this noxious weed, as I of mine; and yet I see an ugly Pumpkin growing upon the land."
Ohio.  "Not upon my land, I guess!  It's the VALLANDIGHAM PUNKIN as I've tossed over into my neighbor's field, and he's bin and tuck root, you see, among the Canady thistles!"
Clement L. Vallandigham was born July 29, 1820 in Lisbon, Ohio and died June 17, 1871 in Lebanon, Ohio.  He was a famous politician during the Civil War who was court-martialed and exiled to the Confederacy because of his Southern sympathies and outspokenness against the Federal government.  Vallandigham was elected to the Ohio state legislature in 1845 and as a member of the US House of Representatives, he was outspoken against the  policies of the Republican Party especially when it came to the topic of slavery.   He soon became the leader of a group of Midwest Democrats known as Copperheads. The Copperheads were a vocal group of Democrats who opposed the Civil War, wanting an immediate peace settlement with the Confederates.
During the Civil War he continually attacked the Lincoln administration.  He claimed that Lincoln was destroying the Constitution. In 1863 he made numerous speeches throughout Ohio against the war and the government.  This lead to him to become one of the most suspected and hated men in the North. He was arrested in May by military authorities for expressing treasonable sympathy with the enemy.  He was tried and found guilty by a military commission and sentenced to imprisonment. Soon afterward Lincoln commuted his sentence to banishment behind Confederate lines.
Vallandigham eventually made his way to Canada where he continued to attack Lincoln and the Republicans.  In September 1863 the Ohio Peace Democrats nominated him for governor. He returned illegally to Ohio in 1864 and took an active part in that year's election campaign. He also wrote part of the national Democratic platform in which the war was denounced as a failure.
After the war Vallandigham criticized the Radical Reconstruction policy of the Republicans as both unconstitutional and tyrannical, but in 1870 he recognized the uselessness of further opposition and urged his party to emphasize financial issues instead. He died the following year after accidentally shooting himself with a firearm that was an exhibit in a murder trial.
---
Sources:
"Clement L. Vallandigham | Biography – American Politician." Encyclopedia Britannica Online. Encyclopedia Britannica, n.d. Web. 30 Oct. 2015.