As I am enjoying a few days off with the family, I want to take this opportunity to wish each and every one of you, a very Blessed Easter.
Civil War Easter Tidbits
Ever wonder what days  Easter fell on during the Civil War.?   Well, I looked it up:
March 31st 1861
April 20th 1862
April 5th 1863
March 27th 1864
April 16th 1865
Here is an entry in the diary of Union soldier Daniel Chisholm: "The beautiful Easter Sunday finds us all O.K. for it is as pretty and warm day, but we have no eggs. We could have them at 40 cents per doz. but I guess we will do without this time"-  (Menge, p. 7).
Here is a link to an Easter Sermon from 1862
Finally, here is a clipping from  April 1, 1861 edition of The Philadelphia Inquirer: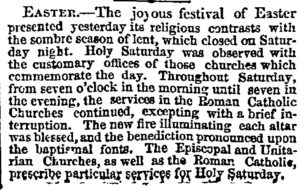 The joyous festival of Easter presented yesterday its religious contrasts with the sombre season of lent, which closed on Saturday night.  Holy Saturday was observed with the customary offices of those churches which commemorate the day.  Throughout Saturday, from seven o'clock in the morning until seven in the evening, the services in the roman catholic churches continued, excepting with a brief interruption.  The new fire illuminating each altar was blessed, and the benediction pronounced upon the baptismal fonts.  The Episcopal and Unitarian Churches, as well as the Roman Catholic, prescribe particular services for Holy Saturday.
Again, may the blessings of this Easter season be on you and your family.
Jim
Reference:
Menge, W. Springer Menge, J. August Shimrak. The Civil War Notebook of Daniel  Chisholm: A Chronicle of Daily Life in the Union Army 1864-1865.New York: Orions Books, 1989.