Okay, so back in December I asked you to take a look at the following photograph so we could explore all of its hidden treasures. This photograph shows the same building from my December 8th post that showed wounded soldiers from the battles in the "Wilderness" at Fredericksburg, Virginia, May 1864. This Gardner photograph of the US Sanitary Commission cooking tent is taken from a slightly different angle and a bit further away from the building. You can obtain a copy of the high resolution TIFF version of the image from the Library of Congress website.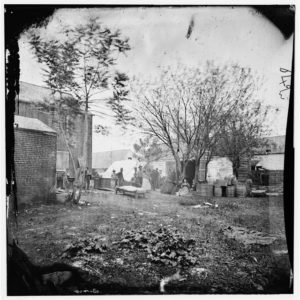 So, let's open up the photo in your favorite program (I use GIMP) and start taking a look around. On the surface we can several people standing and sitting around the yard. There appear to be a few wounded soldiers near the building, some gentlemen in front of the tent and some ladies sitting under the tree to the left of the barrels. There also appears to be a bed or cot in the middle of the yard.
Now, let's grab our magnifying glass and see what else we can find. By increasing the magnification you can see at least people within this scene. Can you find them? There are two wounded soldiers (both with left arm wounds) on the left side of the image. There are 14 people situated near the center of the image. But where are the others? Zoom in on the area between the building and the back of the tent. You can see two and possibly three (there may be two in the carriage) people here. Finally, on the far right of the image, you can see the shadowy image of someone standing behind the barrels. Continue to zoom in on the individuals and look at their expressions and clothing.
What else can you find? See if you can locate some of the following items: the coffee pot, an umbrella, the US Sanitary Commission sign on the tent, a wash basin (look on the left side of the image), the stretcher that was leaning against the building in the previous image and the gentlemen drinking coffee.
Until next time, happy hunting.