"The world will little note nor long remember what we say here, but it can never forget what they did here." This simple sentence was spoken on November 19, 1863, by President Abraham Lincoln when he gave the now famous Gettysburg Address and it reminds us of how important it is that we take every opportunity to teach our students about the American Civil War. So, as we approach the 145th anniversary marking the day of this famous speech, let's see how we can use technology to learn more about these famous words. There are five known copies of the Gettysburg Address. There is the Nicolay and Hay versions currently held at the Library of Congress, the Edward Everett copy located at the Illinois State Historical Library, the Bancroft version is housed at Cornell University and finally the Bliss copy is on display in the Lincoln Room of the White House (Library of Congress, 2005).
Lincoln was invited to provide "a few appropriate remarks" at the dedication of the new Soldier's National Cemetery by Gettysburg attorney David Wills (Wills, 1992). In all, some 3,500 Union soldiers would be transferred from shallow graves on the battlefield to this new cemetery by Samuel Weaver (Heiser, 2001). You can read Mr. Wills invitation to President Lincoln on the Library of Congress website.
But President Lincoln was not the featured speaker of the ceremony. That honor belonged to Edward Everett one of the best known orators of the time. Mr. Everett spoke for over two hours and you can read his speech online thanks to the Douglas Archives of American Public Address.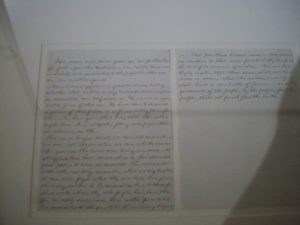 Recently, the Everett Copy of the Gettysburg address was on display in Gettysburg having been loaned to the GNMP by the  Abraham Lincoln Presidential Library and Museum in Springfield, Illinois.  In 1864, Mr. Everett sent a request to President Lincoln asking for a copy of his speech.  Everett was collecting all the speeches given at the Gettysburg dedication into a book that could sold for the benefit of soldiers at New York's Sanitary Commission Fair. This draft which Lincoln sent has become known as the "Everett-Keyes" copy and is the 3rd autograph copy.
Virtual Gettysburg has this photo of the Everett Copy as well.  Notice the #57 in the upper right hand corner?  That was to indicate the page number in the book where the document was placed.
The following photographs were taken during the dedication ceremony and perhaps during the actual time of Lincoln's speech (Frassanito, 1975). The detailed of the photograph was researched by Josephine Cobb and shows the President among the many people on the platform (Frassanito, 1975).
You can listen to an eyewitness account of the speech by William V. Rathvon. Mr Rathvon was nine years old as he watched President Lincoln's speech. This recording was found by Quest for Sound curator Jay Allison is is located at http://www.npr.org/templates/story/story.php?storyId=1045619
And what would be any discussion about the Gettysburg Address without actually hearing those famous words. There are several MP3 files available of the Address being read by famous individuals, but my personal favorite is the one done by Jeff Daniels who played Colonel Joshua Lawrence Chamberlain in the movies Gettysburg and Gods and Generals.
The Gettysburg Address
November 19, 1863

Four score and seven years ago, our fathers brought forth on this continent a new nation, conceived in Liberty, and dedicated to the proposition that all men are created equal.
Now we are engaged in a great civil war, testing whether that nation, or any nation, so conceived and so dedicated, can long endure. We are met on a great battle-field of that war. We have come to dedicate a portion of that field, as a final resting place for those who here gave their lives that that nation might live. It is altogether fitting and proper that we should do this.
But, in a larger sense, we can not dedicate;we can not consecrate;we can not hallow;this ground. The brave men, living and dead, who struggled here, have consecrated it, far above our poor power to add or detract. The world will little note, nor long remember what we say here, but it can never forget what they did here. It is for us the living, rather, to be dedicated here to the unfinished work which they who fought here have thus far so nobly advanced. It is rather for us to be here dedicated to the great task remaining before us; that from these honored dead we take increased devotion to that cause for which they gave the last full measure of devotion; that we here highly resolve that these dead shall not have died in vain; that this nation, under God, shall have a new birth of freedom ; and that government of the people, by the people, for the people, shall not perish from the earth.
References:
Heiser, J (2001, May). Soldier's national cemetary at gettysburg. Retrieved November 13, 2006, from Gettysburg National Military Park Web http://www.nps.gov/archive/gett/gncem.htm
Frassanito, W. J. (1975). Gettysburg: A journey in time. New York: Macmillan.
Library of Congress, (2005). The Gettysburg Address. Retrieved November 13, 2006, from Library of Congress Web site: http://www.loc.gov/exhibits/gadd/Wills, G (1992). Lincoln at gettysburg: The words that remade america. New York: Simon & Schuster.

Photo Credits:
Lincoln's Speech, "The Gettysburg Address." The Library of Congress. November 13, 2006 http://www.loc.gov/exhibits/gadd/gaphot.html>