Samuel Abbot Cooley was born in Hartford Connecticut, he was the son of Dr. Abial Abbot Cooley. Prior to the Civil War, he was living in Beaufort, South Carolina and working as a photographer. By 1863, he was living next to the Arsenal and had a photographic studio above his store.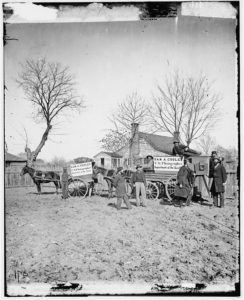 During the Civil War, there was at least one photographer taking pictures in the South – Samuel Abbot Cooley. As luck would have it, Cooley was living in Beaufort, South Carolina when it was captured by the Union during the Battle of Port Royal in November of 1861. Cooley sold his photographic business in May 1864 with the intent of returning to the North but in 1865 he was the "Photographer Dept. of the South" and selling his wartime photographs. He took pictures in St. Augustine, Jacksonville, Charleston and Savannah.
As the only photographer in the area, Cooley was taking pictures as the 70th OH Infantry and 55th IL Infantry removed Fort McAllister'scannons, artillery and ammunition in December of 1864. He accompanied Federal troops to Hilton Head Island and took photographs in St. Augustine, Jackson, Charleston and Savannah.
Sam Cooley died on May 14, 1900. He is buried in the Old North Cemetery in Hartford.
My Colorization
This one was fun and not too difficult. I enjoyed some of the detail work. I also picked a more red color for the dirt, thinking it would be more dry and clay-like.