Battle of Gettysburg Reunion of 1913
From June 29 to July 6, 1913, 50 years after the Battle of Gettysburg, Union and Confederate flags flew side by side when more than 50,000 Civil War veterans converged on Gettysburg, Pennsylvania for a grand reunion.
The idea for a grand reunion started in April 1908 when General H. S. Huidekoper, a Philadelphia native who lost his right arm at Gettysburg went to Pennsylvania Governor Edwin S. Stuart and suggested a semicentennial observance of the three-day battle. Then in January 1909, the Pennsylvania General Assembly established the Fiftieth Anniversary of the Battle of Gettysburg Commission. The newly established commission worked with the Federal Government and other states to obtain funds for travel to and from Gettysburg.
On June 29, 1912, the Gettysburg veterans camp officially opened. The camp comprised 280 acres and more than 5,000 tents, which were organized by state. According to the Commission's report, there were 53,407 veterans in camp. In addition, 124 officers and 1,342 enlisted men were assigned by the War Department to help make sure things ran smoothly, while 155 newspapermen and 2,170 cooks brought the total in camp to 57,198. Major Gen. Daniel E. Sickles, the only surviving corps commander on either side was also in camp.
When they weren't taking in the scheduled public exercises at the reunion, veterans spent their time in Gettysburg reminiscing with friends and getting to know former foes. The following are two such soldiers: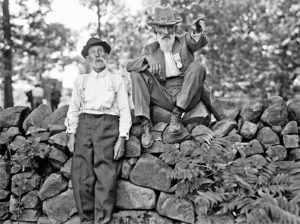 Here we see two veterans, sitting on a stone wall talking and discussing their time at the battle. Both are probably in their 70s and one points off into the distance.
Here they are after I colorized the image.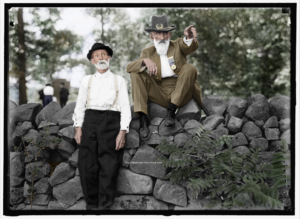 It is amazing how a bit color brings these two veterans to life. I tried a few new techniques on this one including how I textured the trees in the background. Interesting to note are the three men standing in the background to the left of the veteran without a jacket. I chose a butternut color for the one veteran's suit as it reminded me of a Confederate soldier's uniform. You can also notice the medal he is wearing which has Virginia on the top part.
Let me know what you think. You can also learn to colorize your own images with my tutorials: Learn to colorize Civil War photos: Part 1 and Part 2