My daughter Sarah and I recently presented at the Pennsylvania Council for the Social Studies conference in Gettysburg.  I presented on ideas for Using Technology to Teach the Civil War and as part of my presentation, Sarah talked about her 4th grade biography project on Clara Barton.  I'm very proud of how well is presenting with me.
After the conference we took a ride around the battlefield and I snapped this photo of her sitting on the rocks in Devil's Den with Little Round Top behind her.
Clara Barton was known as "The Angel of the Battlefield" for her work in helping wounded soldiers.  This photo shows my "Angel of the Battlefield"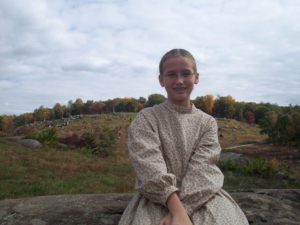 In addition to presenting at this conference, she also presented with me at the 2008 Civil War Preservation Trust's Teacher's Institute and will be presenting with me a few more times in the coming months.
Here is the PowerPoint from the PCSS Conference for you to review.
I'm working on revising my presentation to something more special around a web theme, but more on that later.
UPDATE:  Check out the wiki page for our TRETC presentation
Until next time…