The Mütter Museum Links High School Classroom to Untold Civil War Stories
​Today's classroom is full of Civil War stories, but very few explore the impact the war had on the future of medical advancements in the United States.  The Mütter Museum, America's best-known museum of medical history located in Philadelphia, has developed online lessons to share the untold social and medical dimensions of the Civil War with high school students and teachers nationwide.
The lessons, which are free and available to all, explore unique topics including: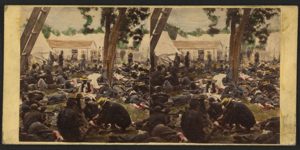 How the ambulance system, emergency rooms, and the use of anesthesia all originated during the war;
What it was like to fight, to become sick or injured, to take care of the wounded;
How the nursing profession evolved and flourished as people–mostly women–volunteered to work day and night to relieve the suffering of soldiers; and
How the medical establishment understood the bodies of African American soldiers.
Each lesson follows a common format featuring learning objectives, time required, key words, background, recommended websites, and Pennsylvania Education Standards. Importantly, lessons include case studies and role plays based on primary sources to immerse students in the medical thinking of the Civil War era. Primary sources include soldiers' letters, official reports, newspaper coverage, and medical pamphlets and treatises of the era.
Explore all ten lessons from The Mütter Museum or join Robert Hicks, director of the Mütter Museum, in a nine-part online miniseries that explores the vital role of people, places, and events in Civil War era Philadelphia.