As you know, I love looking at Civil War era photographs and I have discussed the site Virtual Civil War before.  Mike Lynaugh is a professional photographer who has created a collection of photographs of Civil War battlefields and reenactments know as Virtual Civil War.
And on this the anniversary of the Battle of Gettysburg, I'd like to share one of my favorite collections.  Mike's Gettysburg Gallery contains some incredible photographs of the battlefield as it looks today. What a great way for you to tour the battlefield with your students. Or art teachers can use the photographs to discuss some of the techniques the Mike uses to create these terrific photographs.
Here are two of my favorites: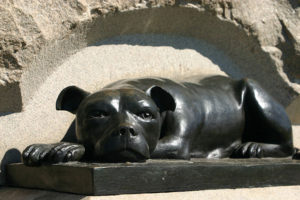 This is a close up of the 11th Pennsylvania Volunteer Infantry (PVI) monument on Oak Ridge. This is Sallie Ann Jarrett, the mascot of the the 11th PVI who was present at Gettysburg and got left behind when the 11th fell back through the town. Sallie stayed on the field, behind enemy lives with the dead and wounded of the 11th. More on her for another post.
My other favorite is this one of an extreme close up of the Virginia Monument showing the details that go into creating such a magnificent monument.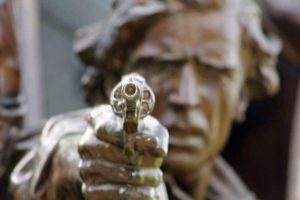 Be sure to check out Mike's other galleries such as Antietam, Harper's Ferry and Manassas.
PS: I also have a special photo of the 11th PVI monument as my desktop wallpaper. 😉