UPDATE:  AUGUST 2016 – This feature is no longer available
Thanks to Chris C over at the Sparks of Hope Blog for this one:
Did you know that Google has a timeline feature? Go to Google.com and type the following into the search box: civil war view:timeline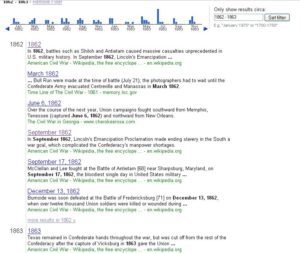 Or you can click HERE
This will give you a timeline of the Civil War. You can then proceed to click on a month or year of the war and be taken to a page with information about that particular month.
Very nice tool.
Until next time…