On June 28, 1863, an important event took place in the small town of Chambersburg, Pa that changed the course of Robert E. Lee's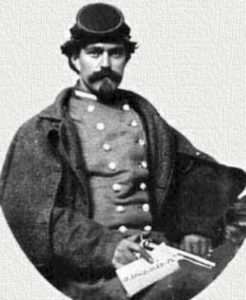 Invasion of the North. A Confederate spy by the name of Harrison came into camp and reported on the movements of Union troops. General Longstreet's Chief of Staff, Moxley Sorrel wrote that Harrison straggled into the lines on the night of June 28, 1863 "filthy and ragged, showing some rough work and exposure."
On that night, Harrison shared with Longstreet the news that Federal forces were located around Frederick, Maryland and advancing north, along with the news that Union General George Meade had replaced Joseph Hooker as commander of the Army of the Potomac. This news, caused General Lee to begin concentrating his troops near Gettysburg.
Henry Thomas Harrison, son of Henry Hargrove Harrison and Rebecca Pearson Harrison, was born near Nashville in April of 1832. On September 28, 1863, Harrison married Laura Broders in Washington D.C. and they had two daughters, Elizabeth and Mary Irene. Harrison died on October 28, 1923, at Covington, KY.
It is interesting to think about what might have happened had Harrison not learned about Meade or the Union army movements or if he simply failed to deliver the news. Would the Battle of Gettysburg have even happened? What would have become of Lee's invasion?
Other interesting events of June 28, 1863
Confederate Jubal Early makes a $100,000 requisition, plus supplies, on the city of York, Pa and the citizens are able to partially meet the request.

General Meade requests permission from General Halleck to pull 7,000 men out of Harpers Ferry and bring them to Fredrick, Maryland, leaving 4,000 in the garrison. Halleck approves the move.
Confederate General Jeb Stuart captures a Union wagon train at Rockville Maryland. Chambliss's brigade pursues the retreating teamsters to within four miles of Washington. Stuart seizes 125 wagons of supplies, but they slow his march and he is only able to advance ten more miles that day, spending the night at Brookeville.
Confederate General Gordon's brigade approaches the Wrightsville bridge over the Susquehanna, but Union militia burns it before it can be captured. Gordon's men help put out the fire after it spreads to the town of Wrightsville.
Confederates as part of Jenkins' brigade camp just four miles from Harrisburg. It is as far north as any Confederate unit will get in the entire war.