While browsing my Delicious feed the other day, I came across the HistoryBuff.com website and found it very interesting and thought I'd share.  HistoryBuff.com is providing digitized versions of newspapers from throughout history.  According the the website the "site focuses primarily on HOW news of major, and not so major, events in American history were reported in newspapers of the time. In addition, there is information about the technology used to produce newspapers over the past 400 years."
Naturally,  my first thought was to explore the Civil War era.  So I clicked on the "Online Newspaper Archive" and then selected the 1861-1865 folder.  To my surprise, there were only three folders (63-65) within this folder.  Alas, perhaps they have not digitized all of the papers from 1861 & 1862 yet.  From there I drilled down to 1863 and saw a link for the November 20th Edition of the New York Times covering the Gettysburg Address.  From there it pulls up a thumbnail version of the newspaper which you can hover over and a magnified version of that area of the paper will appear in the center of the page.
After some zooming around, I finally found the article about the ceremony.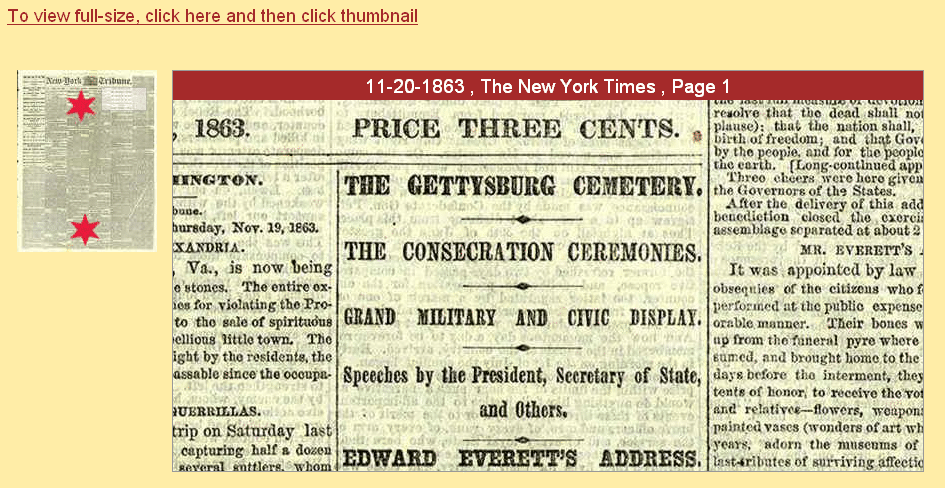 It was interesting to read about the events that occurred that day (and the preceding evening) from a reporter's point of view.  As I was reading the article I was thinking about how this could be used in the classroom and came up with some ideas.  Aside from using it as reference for a report, you could have your students research the event using photographs and other digital primary resources and then have them "report" on the event as though they were there.  You could use this as an example for how one could be written or use it afterward to see how your student's compared to the original.
What are your thoughts on how this could be used in the classroom?