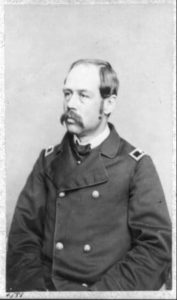 During the first two days of fighting in the Battle of Gettysburg, General Robert E. Lee's Confederate forces attacked General George G. Meade's Army of the Potomac. Shortly after nightfall on the second day, General Meade assembled a Council of War at the home of Mrs. Leister. His main question was whether the Army of the Potomac should remain at Gettysburg or fall back to a position closer to its supply base. After some discussion, Meade and his commanders unanimously agreed to stay and fight a defensive action. The result was a great victory over the Confederate army.
Few people know that the Council of War's decision to remain at Gettysburg was based on intelligence presented by Colonel George H. Sharpe. Sharpe was the Chief of the Bureau of Military Information that had been created earlier that year. Sharpe and his team of experts developed detailed charts revealing enemy troop strength and dispositions.
He reported that "prisoners have been taken today and last evening from every brigade in Lee's Army excepting the four brigades of Picketts Division. Every division has been represented except Picketts from which we have not had a prisoner. They are from nearly one hundred different regiments." Sharpe used this information to present a clear and remarkably accurate picture of Lee's remaining forces around Gettysburg. His figures depicted a Confederate army badly depleted with only four fresh brigades out of 37, approximately 15,000 men, to fight the next day. Conversely, the Army of the Potomac could field about 58,000 fresh troops, a nearly four to one advantage.
Sharpe was born in Kingston, Ulster County, New York in February 1828. He graduated from Rutgers in 1847 and went on to study law at Yale College. In 1949, he was admitted to the bar and practiced law at the firm of Bidwell & Strong. In 1851 he traveled to Europe and served as Secretary of Legation at Vienna, returning to America in 1854. At the start of the Civil War, he joined the Union Army in as captain of Company B of the 20th New York State Militia (known as the "Ulster Guard") for three-months service.
Sharpe was appointed colonel of volunteers of the 120th New York Infantry in 1862 and took part in all the battles of the Army of the Potomac. He served on the staffs of Generals Joseph Hooker, George G. Meade, and Ulysses S. Grant, and was appointed brevet brigadier general of volunteers in 1864 and brevet major general of volunteers in 1865.
In January 1863, Sharpe was selected by Major General Joseph Hooker to set up a bureau of military intelligence. The Bureau of Military Information was formed and made up of a group of professional agents, known as guides, who were trained to infiltrate Confederate military operations. In April 1865, as head of the Bureau of Military Information and assistant provost marshal, Sharpe paroled 28,000 Confederate Army soldiers, among them General Robert E. Lee, after the surrender of the Confederate Army of Northern Virginia at Appomattox Court House.
The original photo was taken in August 1863 in Bealeton, Virginia. This photo shows (from left to right) Colonel Sharpe, civilian John Babcock, an unknown officer, and Captain John McEntee in front of their headquarters.
You can learn to colorize your own Civil War photographs from my tutorial videos: Part 1 and Part 2