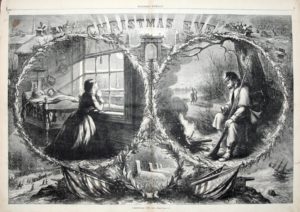 The above illustration by Thomas Nast is entitled "Christmas Eve, 1862" and is from an 1862 issue of Harper's Weekly.  On the right side of the illustration is a Civil War soldier on duty sitting next to a fire on a cold night.  In addition to holding his musket, he is holding a photo of his family.  Behind him are other soldiers sitting next to a tree and standing guard.  On the left side is his wife, kneeling in prayer with their children "nestled all snug in their beds."
Look closely in the upper left portion of the illustration and you can see Santa (complete with reindeer) getting ready to head down the chimney.  In the upper right Santa is delivering presents to soldiers in the field.  All the while, the Civil War is raging below them in the form of both a land and a sea battle.  And in between, the hardships of war, graves of fallen soldiers.
So, on this Christmas Eve, let us pause to remember those families who have loved ones serving in our military and pray for their safe return home.
Merry Christmas.