Discovering Gettysburg: An Unconventional Introduction to the Greatest Little Town in America and the Monumental Battle that Made it Famous
It is not difficult to imagine that my passion for Gettysburg drove me to want to read W. Stephen Coleman's new book, "Discovering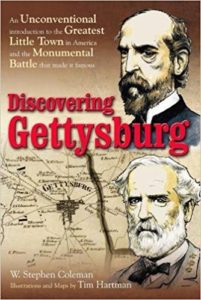 Gettysburg: An Unconventional Introduction to the Greatest Little Town in America and the Monumental Battle that Made it Famous" (published by Savas Beatie). Coleman is a retired professor of theater and a professional actor and director who only discovered Gettysburg after his retirement when he and his wife took a trip from Pittsburgh. According to the author, this trip leads to nearly more 50 trips to Gettysburg and ultimately resulted in the book. His friend and fellow-resident of Pittsburgh, the illustrator Tim Hartman, prepared the book's illustrations and maps.
Overall, the book offers a good, basic account of the battle and includes insightful, and fairly detailed sections on each of the three days of the battle. The book also covers Lee's retreat and Lincoln's Gettysburg Address. A fun part of the book is the narrative on portions of the town, including recommended restaurants and places to visit. There is even a chapter on living history and the reenactment. Coleman also discusses organizations which help the National Park Service such as the Gettysburg Foundation, the Gettysburg Visitors Center, and the Friends of Gettysburg,
Some of my favorite parts are Tim Hartman's outstanding illustrations. There are caricature sketches of individuals related to the battle along with numerous historians and local citizens. These sketches brighten nearly every page and give the book a light-hearted feel at times. By far, one of my favorite parts of the book are the "Questions with an Expert" sections where Coleman interviews authors and historians such as James Hessler, Eric Wittenberg, and J. D. Petruzzi about various aspects of the battle.
According to the author, in Discovering Gettysburg "you will visit with me a host of famous and off-the-beaten-path places on the battlefield, explore the historic town of Gettysburg as it is today, chat with some of the town's fascinating "resources," and follow along, as I did, with some of the most engaging storytelling I have ever had the pleasure of hearing. … Thankfully, my friend and award-winning cartoonist Tim Hartman agreed to provide the magnificent maps and outstanding caricatures that grace this book."
WIN A FREE COPY TODAY