In 1865, Good Friday, the day that commemorates Christ's crucifixion, fell on April 14th. As we all know, Abraham Lincoln was shot on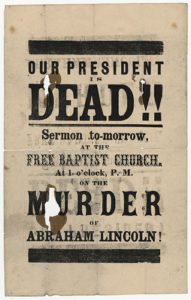 Good Friday, April 14, 1865. He died on Saturday, April 15th, and the nation mourned his death on Easter Sunday, April 16th. That Sunday was called Black Easter. This year Good Friday is on April 14th and Easter Sunday is on April 16th. The 152nd anniversary of Lincoln's death falls on the same Easter weekend as it did in 1865.
According to Harold Holzer, the chair of the U.S. Lincoln Bicentennial Commission, on that Easter Sunday in 1865, pastors across the country devoted their sermons to the memory of a man who had been "sacrificed on the altar of freedom and died for the nation's sins."
After a week of bonfires, fireworks and bright lights, Washington marked Black Easter. Easter lilies that already adorned pulpits for Resurrection Sunday services were painted black.
According to some newspaper accounts, the president's death on Holy Saturday 1865 meant the red, white and blue bunting celebrating the war's end was replaced with black crepe. Merchants sold out of every type of black material, from cheap muslim to the expensive black alpaca that draped the pulpit of President Lincoln's pastor, The Rev. Dr. Phineas Gurley.
The York (PA) Daily Record has an interesting story about Black Easter.