In honor of St. Patrick's Day, I thought I'd do a quick post on 4 Irish-related Civil War Items.
#4 – Civil War Steeplechase by Edwin Forbes: This sketch is from March 17, 1863 and shows a "Saint Patrick's Day celebration, Army of the Potomac, American Civil War. Irish Brigade holds a steeplechase race"
#3 – The Irish Brigade:  One of the most famous brigades of fighting men during the Civil War, the Irish Brigade was known for it's bravery and gallantry during battle.  Led by Thomas Francis Meagher, the Irish Brigade would go into battle shouting, "faugh a ballagh" which means "clear the way"!
#2 – The Irish Brigade Monument in Gettysburg: One of the most popular monuments on the battlefield because of the life size Irish wolf hound that adorns the monument and symbolizes loyalty.  Dedicated on July 2, 1888, the monument with it's Celtic Cross, honors the brave deeds of the Irish Brigade and their struggles in the Wheatfield.  Of the over 500 men that went into battle on July 2, 1863, about 200 would become casualties. Here is our good friend Civil War Sallie checking out the monument.
and
#1 – David Kincaid:  According to his Haunted Field Music website, David Kincaid is both a musician and historian who "presents a compelling combination of the songs and history of the Irish in the American Civil War. I have had a pleasure to listen to David perform many times over the years and each time is a true pleasure.  He is a wonderful artist and does a wonderful job of portraying the Irish soldier during the Civil War. Check out his The Irish American's Song and The Irish Volunteer CDs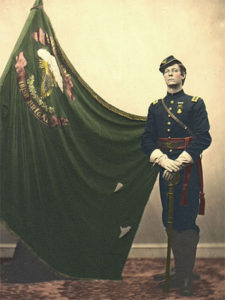 Happy St. Patrick's Day Everyone